August 4, 2022
by Luz Magdaleno
"You Have The Right To…!" Workshop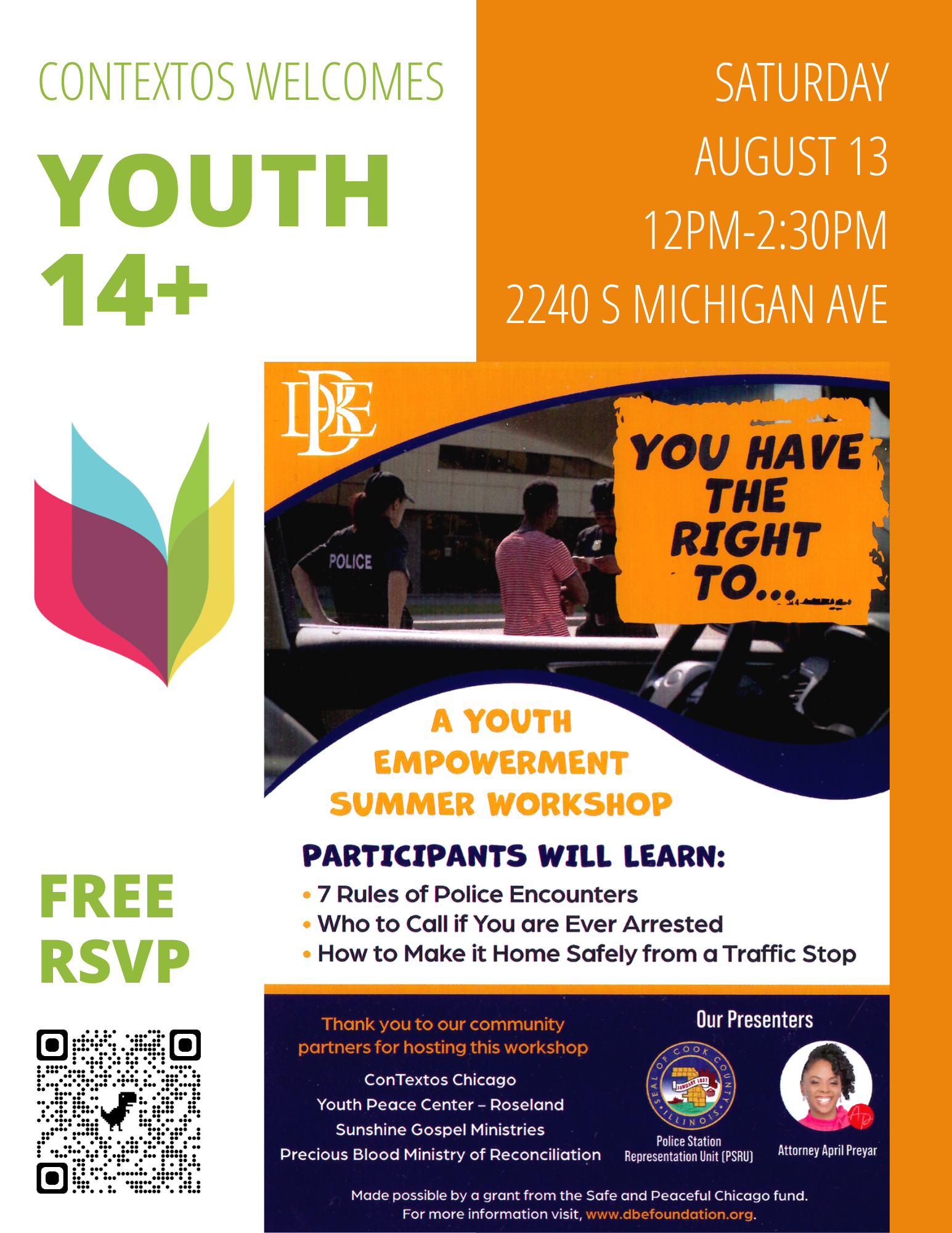 "You Have The Right To…!" Workshop
16
16 people viewed this event.
The "You Have The Right To….." Youth Empowerment Workshop is a collaborative effort between The Center, community partners and subject matter experts convening for an interactive workshop, to be hosted by ConTextos, where youth between the ages of 14-20 will learn their basic civil rights during a police encounter.
This 2.5-hour session will include presentations by criminal defense attorney April Preyar, inventor of the board game Trials and Triumphs–a board game that teaches teens and adults how to safely interact with the police–along with interactive role play by attendees in an effort to demonstrate comprehension in addition to a representative of the Law Office of the Cook County Public Defender's, Police Station Representation Unit (PSRU).
Recent Posts
July 20, 2022
Instalando espacios de esperanza
Por Leidy Hernández. Recuerdo que cuando era niña, en la bodega de mi escuelita rural había algunos libros en estantes altos y solo podíamos tenerlos…
July 7, 2022
Había una vez…una biblio
Por Daniela Raffo La oficina central de ConTextos está en un barrio residencial en Santa Tecla.Casas cerradas que solo dejan asomar veraneras brillantes.Edificios nuevos para…
June 23, 2022
Aprender a ser solidario
Por Steven Alexis González Jiménez Un docente que me marcó fue Melvin Alexander Rodríguez, profesor de Matemáticas de tercer ciclo del Complejo Educativo Ingeniero José…