February 11, 2020
by Debra Gittler
To Bear Witness
The last time I was at Quezaltepeque Prison was five years ago. It was my final visit before the prisons would be closed to the public, but I didn't know that at the time. There was a new warden—in my memory, it was the third in only months. He walked us toward the school space, past the women's area. "Estamos trasladado a las mujeres." We are moving all of the women, he explained. We stood on the other side of a simple chain link fence. Within the fence were two women, this space where in past visits, I had seen so many women gathered making pupusas upon a grill fueled by flames or gas, children scattered around in different phases of play. 
"Buenos dias," I greeted, "How old is the baby?" Through the chain link, I cooed at the little boy. 
"13-days old," the mother replied. Thirteen, such a powerful number in El Salvador, where the 13th Street and 18th Street gangs are so notorious. I've seen teachers hesitant to use those numbers in math classes. "Will you take him?" She smiled, but her question was sincere.
Just weeks before, we had been at that same site with a photographer and an international journalist. We defied so many odds to facilitate interviews and take photos just as the truce was coming to light, as El Salvador, and the world, were learning about the negotiations between the government and the gangs. And just as the government was pulling out of that truce, in what was called las medias extraordinarias, the extraordinary measures, a suspension of law in the pursuit of order, a crackdown against the gangs–which, in turn was a crackdown against communities and youth. This was just before violence in communities would spike, and this tiny country of six-million would register over 6,500 homicides that calendar year. When the gangs would retaliate against the government's pull-out of that truce by creating a united front against the government, and against the people. When we would have to help a colleague, formerly affiliated, to escape the country with his wife and kids in tow. When there were days that the country was paralyzed…
Now, six years after we started programming in Quezaltepeque prison, we are back inside. Last week, with our team from Chicago visiting El Salvador, with our international board present for our annual meeting, and with the new Salvadoran President having just reopened the gang prisons, we have been invited back in. For the past five years, there were no visits—not by family, or NGOs/non-profits, or the church; even the international Red Cross was turned away when they came in response to the rumors of tuberculosis outbreaks that had bodies piling up…
Because we were there before the extraordinary measures took place, the Penal System invited ConTextos back in.
My colleague Jennifer had visited a few months back, setting the groundwork for our international group of 12 to take the tour, one of the first groups that would come in in these five years. Jen had taken the same tour six-years before. Six years before, when she and her colleagues had written a letter saying that if ConTextos were to work within a gang prison, they would quit en masse, so great was there fear of working with "Them," with individuals who identify with gangs. It was that first round of work that transformed Jen and her team, and ConTextos as a whole—the 30 memoirs written by 15 men and 15 women at that first intervention at Quezalte, 22 sessions, 44 hours per group, 88 hours of instruction, hundreds of hours of prep and meetings and discussions, culminating in a publication event in early 2016 where those 30 Authors, those privados de libertad, detainees, gang members, presented their final published books to their families and children, and ConTextos' board and guests, and the staff of the penal system.
On this tour, like always, we entered the parking lot, a courtyard, the space between the Outside and the Inside, my awareness so keen to anything, everything different. Immediately, flooded by such strong memories of those visits from years before; I remember the young female correctional officer who would usher us through security. Under her balaclava were beautiful dark eyes, ringed in black, conjuring images of the masked women of the Middle East, not Latin America. I remember that first visit when we had books in tow, she flipped each page carefully looking for contraband, but instead, suddenly, slowly, removed the mask as the called to her colleague. "Mira…" Look. "Can we also use these?" she asked. "My children would like them." And we had a first ally.
So on this visit, six years after our first visit, five years after my last visit, senses were heightened. The flow through the space was different, everything recently painted an institutional beige that shone bright under the hot tropical afternoon. 
Five years ago, the men and women had movement. The sectors were blocked away, and that movement was limited to confined spaces, but the feeling was more of a poor "marginal"; a poor community. The memory of six years ago, going into the sectors, surrounded by tattooed men in their boxers, saying Buenas Tardes, good afternoon, us to them and them to us. I remember being aware, all those years ago, that no one whistled or catcalled–so unusual in El Salvador; and that there were no guns, not even by correctional officers–also so unusual in El Salvador. The paradox that amongst these most dangerous people in this most dangerous place was a calm and respect that I didn't know in communities.
Now, the only memory of women and children was the walk into the first sector (where detainees are housed) through a playground space newly decorated with murals of Frozen and Lion King. No woman or child had been in that space for five years. No family visit. "We are preparing for the visits," explained the warden, this same warden who was here six years ago, who had been moved around and now, like ConTextos, was coming back. He walked us to and through the new secure visiting area. "This is where they will take place," and we wove between cement walls, small cubicles separating the children's play space by glass. "Desde ahora, solo haremos visitas por el vidrio." From now on, only visits through glass. Later in the tour, we would find out that there was no expected time for such visits to resume. It had already been five years, and perhaps would take at least one more… so much of the paperwork on the 1,900 men inside had been lost. It would take time to reassemble everything. 
We walked through those eerie, empty spaces where family and visitors haven't been and wouldn't be still, past the clanging of padlocks and into newly constructed sectors where the men were in cages. 60+ to a cage meant for no more than 20, three-layers-high in bunk beds interspersed with hammocks. Dressed in white, no longer their own street clothes as it had once been. Young faces seated along the floor, like chicks in an egg carton. Tattoos peering out.  
It's never become less curious to see faces so tattooed. From afar, it's a conundrum; up close, the tattoos drift away and all that's left is a human face. I wonder about the moment when someone's mama's little boy decided to put a 666 on their foreheads, devil horns above their eyes.
I stood, with our guests, in the middle of a sector; three to four cells on each side, perhaps 20 meters of empty space in between, about 500 men in the space. I did my best to tell them why we were there, to invite them to ask questions. To look in their eyes. To make sure they felt seen. I tried to project, but the echo was unruly. 
In that first sector, beds were stacked three high, heads bowed in restraint from lack of space. As the visit went on, we'd enter spaces with no beds, the men all on the floor. The stories at the different prisons are different; sometimes beds are removed when they become weapons, sometimes it's simply a lack of resources.
"Salen dos horas por mes." They get out two hours per month. Now, the gangs are mixed amidst the sectors, but segregated in each cell. Five years ago, it was only 18th street, Revolucionarios and Surenos. Today there are 5+ gangs there. Some I'd never heard of.
"Does anyone speak English?" I ask. And as I turned toward a response in my native tongue, I see a face I know. He smiles at me and I smile back. "You're an Author," I say. Sus un Autor. I ask the Warden. "Le puedo saludar?" Of course, he says. Of course you can greet him and shake his hand.
This small humanity that surprises me. The warden explained that this is now considered a secure prison. A prison like what we have in the USA, I think. But even with these new cages, a snippet of Latin American humanity and affect slips through. At home in Chicago, they'd never let me hold an Author's hand. 
I walk toward him, I reach up through the bars to hold his hand and tell him how happy I am to see him. I tell him what his work has led to, that in these five years that he has been locked away from family and the public, while society has tried to eradicate and forget him, the work he helped start has spread and grown. That his story, with the stories published by that first cohort of incarcerated gang members, has started a movement that's spread so that today over 1,500 memoirs have been published in El Salvador and Chicago, memoirs from those voices most ignored, stories that complicate our assumptions and defy our stigmas. Stories that humanize and create empathy. He helped do that. 
He asks if he can participate again, write another memoir; I tell him yes, but I'd rather he help teach than again be a student. He has proven the power of story; now help us make this grow even more.
We leave the sector and I find Jennifer already leading a group in the corridor; potential new authors who have been selected by prison leadership to be new founding participants. I tell her what I've seen and the guards, again so unlike their counterparts at home, share the excitement and unlock the doors they've just sealed.
We enter to a flurry of movement. The men putting on their shirts and shorts, redressing. When we departed, just moments ago, they derobed, the heat unbearable. As soon as we return, a turn-around visit they couldn't have expected, they quickly started to dress again. The din of their conversation suddenly silenced. 
I walked Jen directly to our Author. They held hands through the bars. Tears dripped her face. His eyes wet. They spoke and I watched. The relationship between facilitator and Author, those two as pioneers 6-years ago. 
And as they spoke, I made as much eye-contact around the sector as possible and wondered: This instinct to get dressed and be quiet… is that culture left over from home, from homes where their mothers chastised them to do their chores, where they were once sweet little boys with cherub cheeks who one day tattooed 18, MS, RIP, diablo on their faces? Is it the leftovers from parents and families who were doing their best? Or is it beaten into them by correctional officers and directors who told them "you better" and so they've become domesticated. Can there be leftovers of civility, within a place that's so uncivil?
What has happened in these five years to go from what was to what it is? 
Is it better, today, than it was five years ago? This new secure lock up looks more like the images of prisons as I've always known them. Less sensational, perhaps, than when I first came and the walls were bright blue covered in thick black paint of gang insignia and naked women, with fires burning in the background and throngs of young men all around, wearing boxers and shorts, dressed for the streets and not a prison. 
Today, they're sitting around together, quiet, in order. But to imagine trying to stand, to imagine trying to move, to imagine trying to stretch.
(Let alone to dream or hope or make plans…)
How quickly would that drive you crazy? And where have the crazy ones gone? Five years without word from family, surrounded by hundreds of others without word from family, watching each other corralled into cages and hunkered down for days and weeks and months and years. 
As we exited Jennifer told me, "I can't remember his name, but I remember his story." And she recalled being so overwhelmed by his vulnerability as he drafted and revised his memoir, five years ago, about trying to become a father, and going to a fertility clinic–to expose those kinds of details in such a machismo culture is unusual, to be so unguarded with secrets that might be considered shameful; such a juxtaposition to the stigmas and stereotypes of gang members, especially those behind bars. Those are the kinds of stories so often released in Soy Autor, in Authors Circles; stories that reflect vulnerability and humanity, and defy our assumptions and stereotypes.
We toured the rest of the prison that afternoon. I was overwhelmed by how much the Warden let us see– not only the appalling but clean new sectors, but the old spaces outfitted with the new security measures. So many men in such small cages, the strong smells and upsetting contrast of bright sun against dark shade. The guards would ask if we wanted see beyond another locked door, into another space, and we would each time say yes, and each time they unlocked doors to show us more of the severity, the inhumane, complicated by the presence of so many humans… 
(And I wonder. What is the part so bad they can't show?)
In each sector, we walk to every cell, and meet as many eyes as possible, and greet as many faces as possible, and hope that they know we were there not to look, but to SEE them. To bear witness to their existence, to their presence, to their conditions.
When the visit ended, and we gathered in a circle with the Assistant Director of the Penal System, and the Warden and his staff, and all of our visitors, we asked: when will they next see their families? What is the plan? What will happen? There are no real answers yet. Rebuilding the cases, contacting families, within a context so complicated by migration and insecurity. No clear plan on the national level… The church has been invited back in, security measures are in place, paperwork is being assembled. And some care will be provided, a technical team of four for a population of 1,900, most of whom are women.
And us. We have been asked in. And we will be there, with the tools and programs we have available, to do the work we can do well now. 
We were invited in with the privilege, and the burden, to Bear Witness. Not just of the misery, but of a process… To see those faces and to learn the stories. To remember that for each body behind bars, there are mothers, and wives, and sisters, and daughters, and brothers and fathers who are missing them. And to consider the opportunity and obligation that this privilege brings.
We're already planning to launch Soy Autor, Authors Circle soon. And with Jen and ConTextos' staff, we are eager that the publication event will also be the first visits after these five years, and that stories from Quezalte can help rebuild those families, and catalyze change throughout the gang prisons, and into classrooms, boardrooms…
So that through story, we can stop looking, but actually see…
Recent Posts
March 31, 2021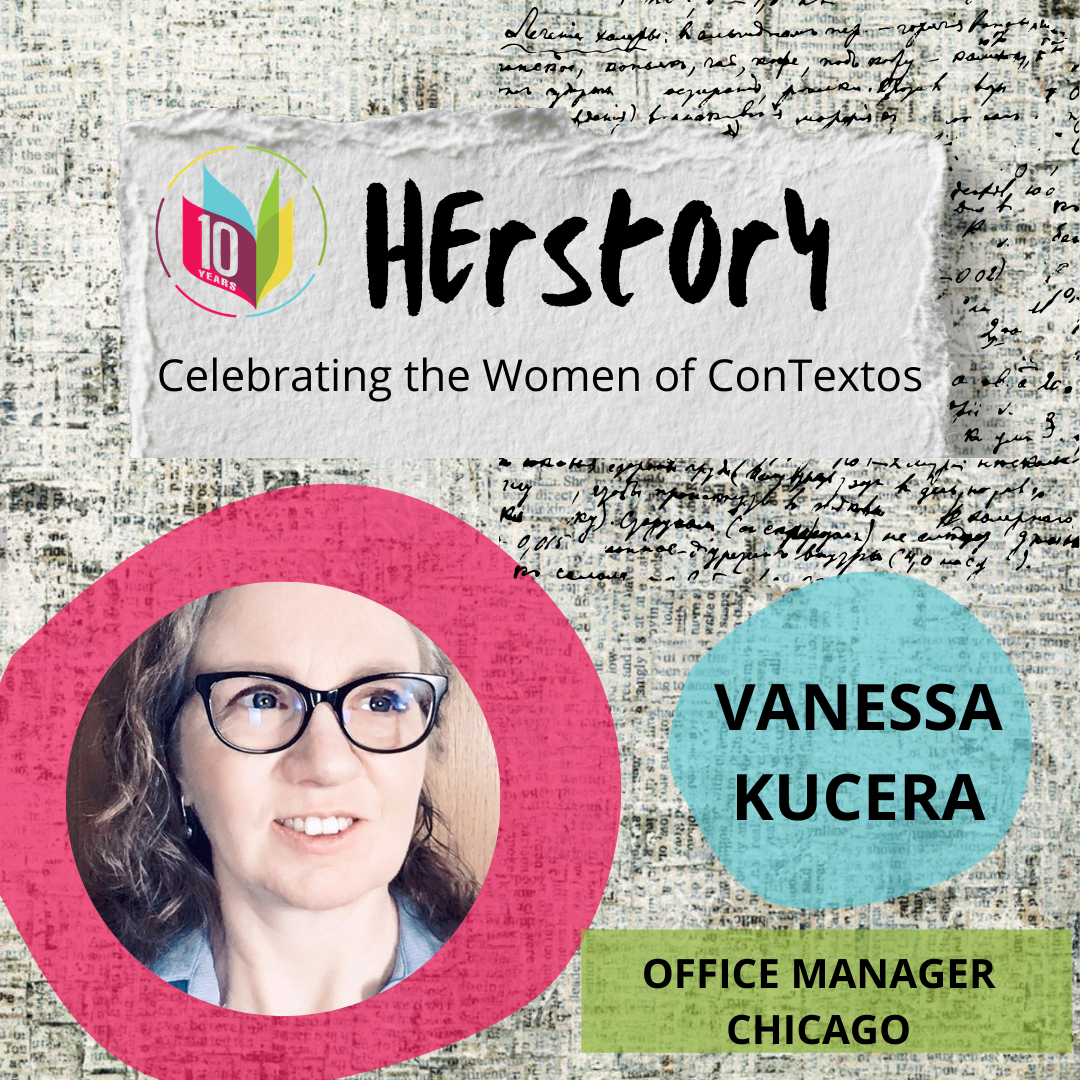 HERSTORY: Celebrating the Women of ConTextos
Vanessa Kucera Office Manager Vanessa is our devoted Office Manager in Chicago who officially joined the team in 2020. As a hard-working Capricorn she helps…
March 25, 2021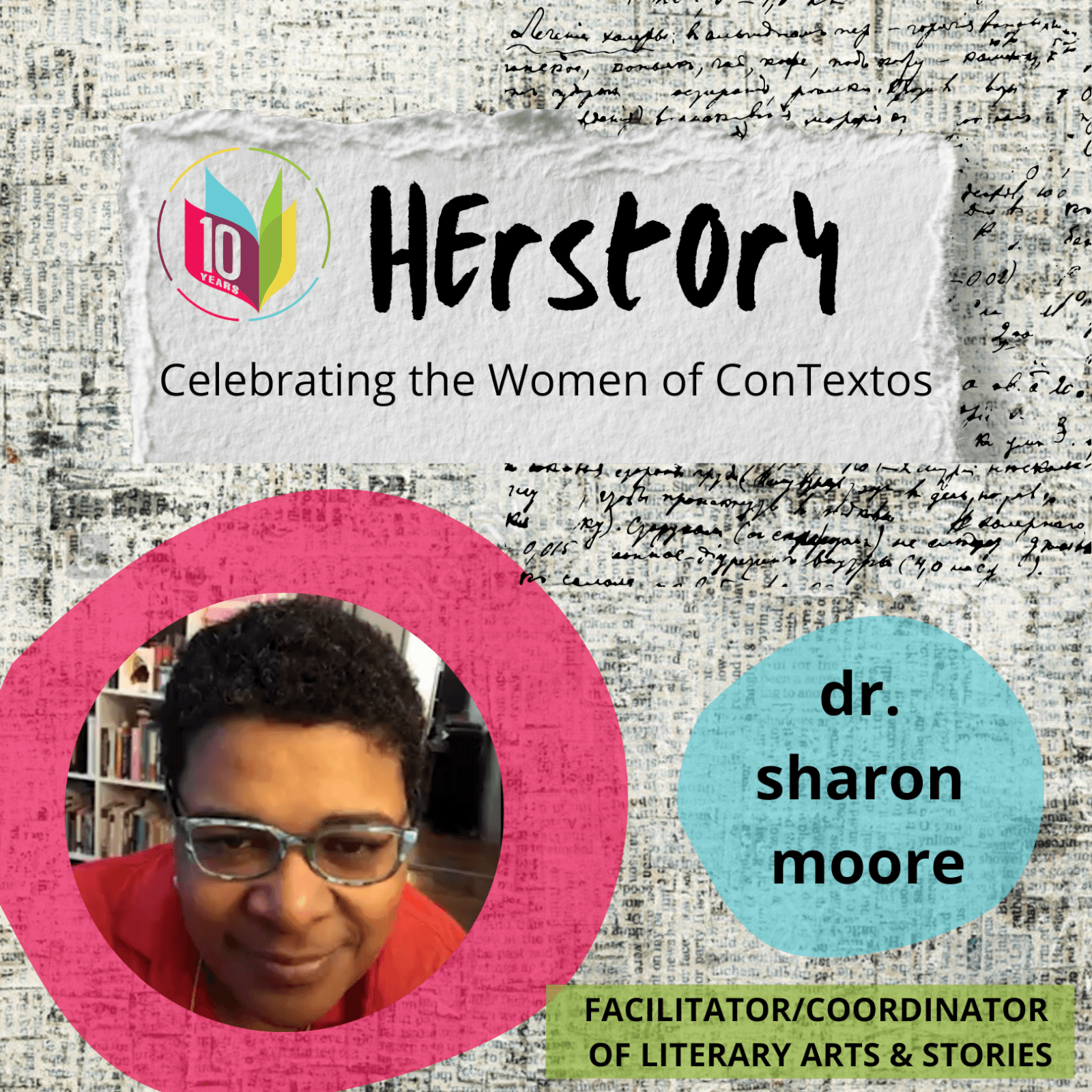 HERSTORY: Celebrating the Women of ConTextos
dr. moore Facilitator/Coordinator of Literary Arts & Stories dr. moore is a conscious wanderer, consistent wonderer, originally from the south suburbs of Chicago and now…
March 11, 2021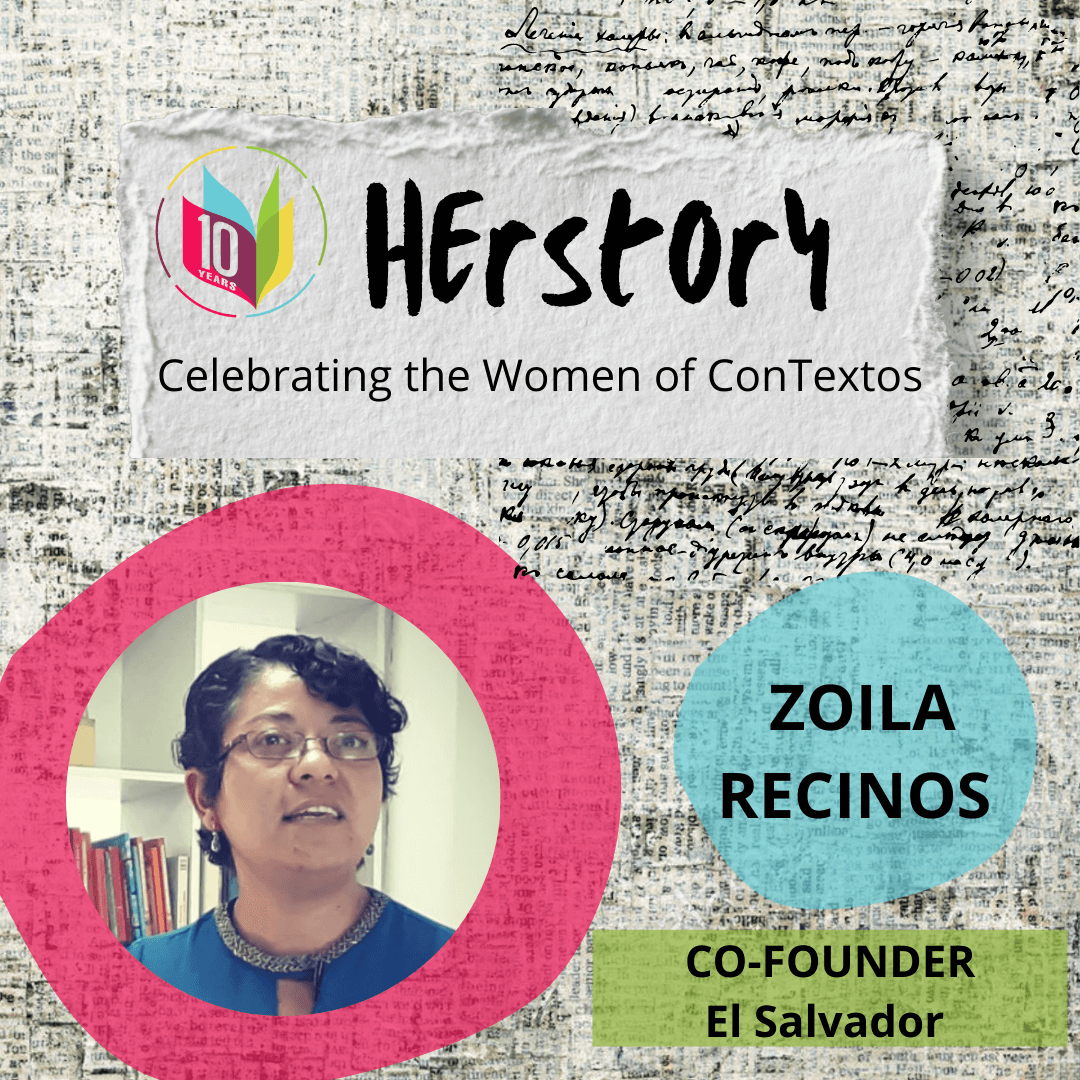 HERSTORY: Celebrating the Women of ConTextos
ZOILA RECINOS Co Founder/Director of Educational Programs Zoila has been with ConTextos since day 1. She is the heart and soul of everything literacy at…