October 21, 2015
by Debra Gittler
RISING PROFESSIONAL STAR
On Saturday morning, I was presented the Rising Star Professional Achievement Award by the University of Chicago Laboratory Schools Alumni Committee. Last year's winner won an Oscar within 9 months. I'm pretty sure this means good things are coming.
The brunch started off with the presentation of the Distinguished Alumna Award to Susan Axelrod for her work around Epilepsy. With her husband David, Susan is a well-known, tireless advocate for research on epilepsy.
The list of previous winners was incredible: US Secretary of Education Arne Duncan, Supreme Court Justice John Paul Stevens, noted Philanthropist Peter Kovler… amongst others.
I can't even believe that my name was mentioned amidst such incredible leaders. I'm grateful and humbled. So I thought I would try to capture just what the award means—what it means to me to have attended and graduated the University of Chicago Laboratory Schools, and what I said as a thank you to the attendees.
A Brief Attempt to Recapture My Words
I am so deeply grateful to receive this award. It means so much to me to see Ms. McCampbell here—I took every literature course Ms. McCampbell offered in high school. A few years ago, I had the privilege of meeting Arnie Duncan and I told him that my goal is to make sure that every kid in the world has an experience like Ms. McCampbell's classroom—she encouraged us to think deeply every day, using literature as a tool to understand the world and our lives.
When I first became a teacher in the South Bronx, I reached out to Ms. McCampbell and asked her: "How did you do that thing?" Her classroom facilitation seemed effortless—students sat their desks in a circle and she would wonder amongst us orienting conversations.
And that was my experience at Lab. I learned to be an educator as a student here. I didn't realize the quality of education as I experienced it, but as I became a teacher, I understood the intricacies of what I experienced.
But I didn't just learn about education at Lab. It was also where my commitment to social justice sprouted. Combined with the influence of my family, at Lab I learned to see multiple layers of community, and my resulting privilege, responsibility and obligation. At Lab, I learned to care deeply and feel part of the bigger story.
People ask how I ended working up in Central America. Because of my Lab school education, I spoke Spanish from an early age. Spanish took me to be first a teacher in the South Bronx, and then to work in educational development in Central America.
As you guys might know, El Salvador and its neighboring countries Honduras and Guatemala are now the most violent countries in the world, with some of the highest indices of migration on the planet. I've been working in the region for nearly ten years. And from the beginning, it seemed obvious that the failures of the education system had a direct link to the struggles in society.
As I mentioned before, my classes at Lab influenced my work as an educator. That's why ConTextos' works to use literacy as a tool to lift the level of thinking in classrooms as a link toward writing and expression.
ConTextos' work in public schools naturally took us into working in the justice system. I'm extremely proud of the work we do in in juvenile detention and adult prisons. Working with these young people—some of the most marginalized people in the world—I see the power of language. Of how writing your own story can be empowering and freeing. I learned those skills and that process as a student at Lab. Now ConTextos' is bringing those same habits to young people in Central America.
I want to especially thank my family, who came here today. I'm the youngest of five daughters, and the only to attend Lab—they all attend public school at Kenwood. So to my sisters—thank you for coming to support a "Lab Scab." And to my parents—you were right: I was the only child worth investing in.
Thank you all again, so much, for this honor.
I'm so honored to receive such a meaningful—and beautiful—award!
Thanks to these guys! To the Awards Committee: thank you so much for your consideration. I'm so deeply grateful and proud to be a part of the Lab School community!
Recent Posts
April 8, 2021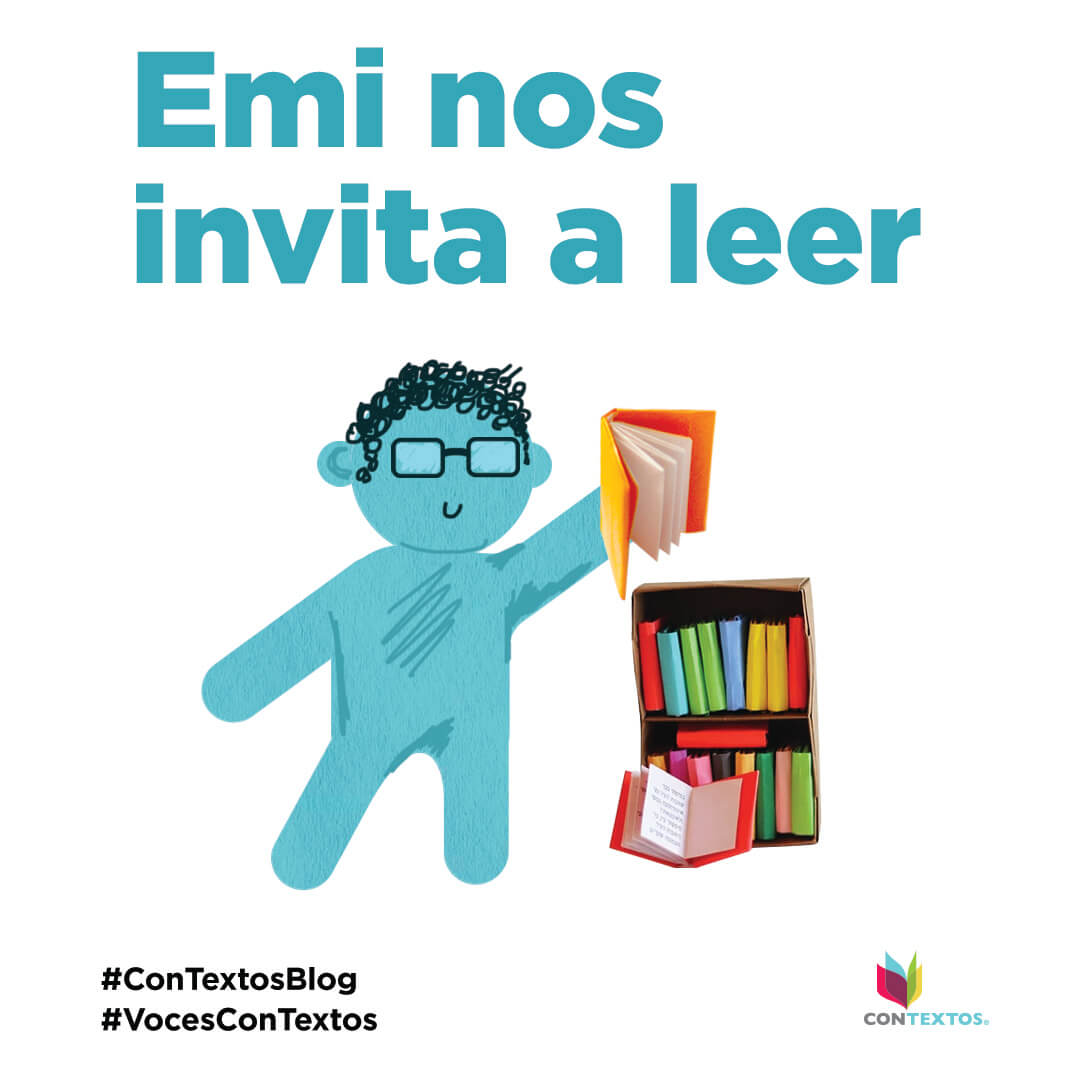 Emi nos invita a leer
Hola. Mi nombre es Edmilson Yanes y formo parte de la red de jóvenes de ConTextos. Tengo 15 años y voy a noveno grado. Me…
March 26, 2021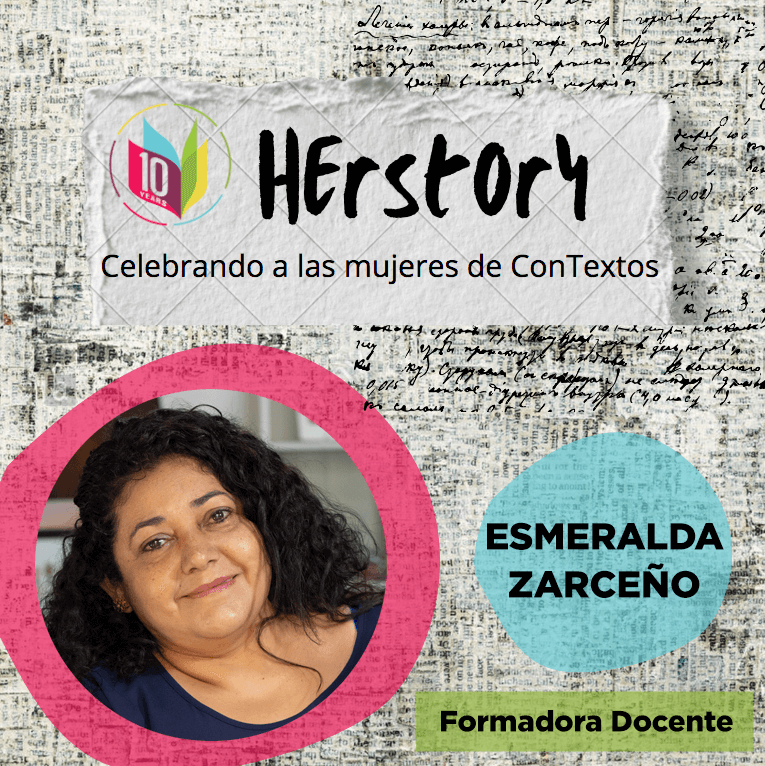 HERSTORY: Celebrando las mujeres de ConTextos
Esmeralda Zarceño Formadora docente Esmeralda Zarceño es formadora. Trabaja con docentes, niños, niñas y jóvenes con una dedicación absoluta. Tiene un optimismo desbordante. Para Esme…
March 26, 2021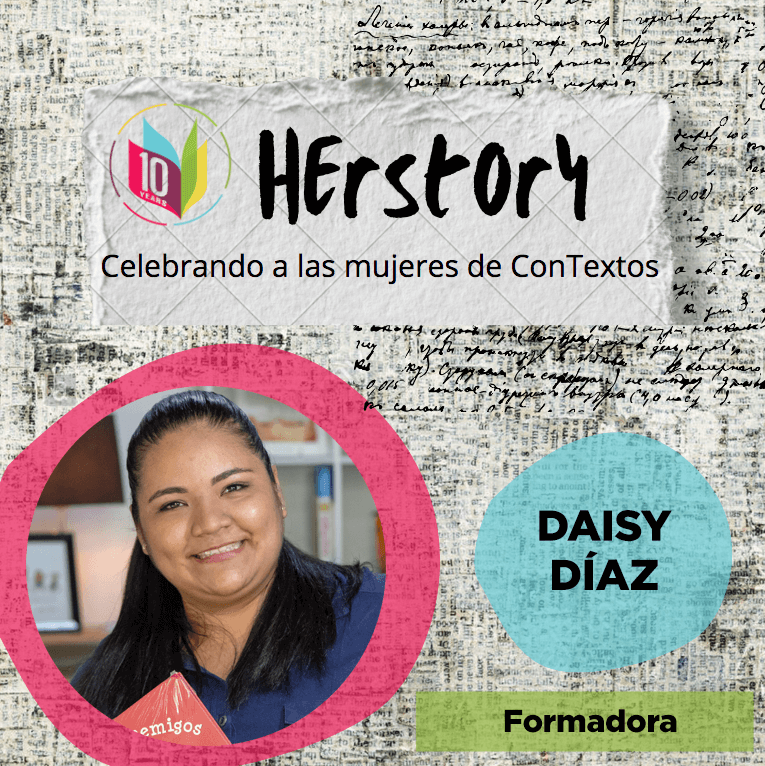 HERSTORY: Celebrando las mujeres de ConTextos
Daisy Díaz Formadora Daisy llegó a ConTextos en el año 2016 siendo estudiante de Trabajo Social. ConTextos la vio trabajar su tesis, sacar su título…