April 22, 2020
by Grace Cooper
Cyber Circle: Week 6
Our team aims to stay mission-driven during these questionable times. While the world feels like a sci-fi movie, we continue to encourage the writing and sharing of personal narratives. We continue to support shared reading and shared writing. We continue to rely on the most important of human traditions: sharing stories, because every story contains lessons for the audience. They spark questions and curiosity. Stories teach us to love. To forgive. To be just. To strive for something better. Stories connect us, even–or especially–when we feel isolated and alone.
Each afternoon, we at ConTextos will engage in shared reading and writing to help us connect, to reflect on our pasts, to envision the future. To author a brighter future. Over Zoom, we will provide a short reading or a prompt, write for no more than 10 minuets, and share our writings as a group. Please fill out this form if you'd to join us.
Johnny Page
April 15th. Prompt: Things are always better in the morning
Things are always better in the morning. I wish this was always true. If it was, our last conversation would not have been our last conversation. I would have possibly had one more day, one more week, one more year.
Had the morning never came I would be sitting with you sipping coca-cola while trying to convince you that those pork skins you so loved were bad for you.
Had the morning never came we would be laughing as you taught me how to make your famous sweet potato pie. The pie that you had been trying to teach me to make and I hadn't had time because I thought we had time.
Had the morning never came we would have all laughed and cried at my wedding or at the birth of Dionne. One of the first girls in a long line of boys.
They say things are always better in the morning but, oh how I wish that, those mornings never came.
Grace
April 16th. Prompt: Write what is on your heart & mind.
The task was just a task until faces I knew came up. Until I really looked at each picture of each human being in what I can only imagine is an awful moment, having your photo taken as you're processed into the facility. Many eyes hold blank stairs, some hold pain, some confusion. With each photo came no bond, no bond, 200,000 bond, 300,000 bond, no bond, no bond, multiple 200,000 bonds, no bond, and no bond again. Of course I felt something but didn't think much of it, nothing I didn't already understand to be true or expect, until coming across the transcripts and audio of humans inside describing the current situation. Some lines stuck to me, like "they're pretty much leaving us in here and saying whatever happens, happens." I'm brought back to El Salvador and the TB unit of the prison, where someone explained that they pretty much just locked infected people in there to die, wouldn't let the Red Cross come in to treat people. We always say there are no expendable human beings, no non-essential human beings – but clearly not everyone thinks that way. And we know this but sometimes it's easier to see than other times, sometimes it jumps up in your face as it did that day and as it did yesterday.
Darrius McCarty
April 16th. Prompt: They think I know the way
Is it because I always smile, threw the worst of trials/ and greet every hardship with a humble bow/
The way I always seem to come out on top/ Or the attitude of a man who can't be stop/
Or maybe it's the way I dance/ That makes them think I have a chance/
But I can tell when they compliment/ That they don't see this sense of false confidence/
They can't tell this is one step at a time/ but if they look a little deeper, they would see the signs/
I wouldn't say it's the blind leading the blind/ but if they think I know the way, they've lost their minds/
Dimitri
April 21. Prompt: Walls between all beings are dreamt to dissolve.
So many recent events, even before the current pandemic, have given me a reason to stop and imagine. My experiences as a classroom teacher and as a parent have caused me to reimagine what education might look like if we started from scratch today in this new information age. Books I've read over the past few years have made me increasingly aware of the prison industrial complex and cause me to imagine what could have been and what could still be if it is torn down. Yesterday a conversation with my daughter had me daydreaming of traveling back in time to an America where people would not be able to imagine a world after the abolition of slavery. I imagined the questions I'd be asked. I wonder how hard it would be to understand the news brought to us by a messenger from the future. I wonder if we would have a hard time understanding life beyond the walls between us.
Emma Marsano
April 21. Prompt: Walls between all beings are dreamt to dissolve
In a dream the other night, I was at dinner with friends. And I remember feeling slightly panicked that I was out in a public place, sharing walls with more than one person. My instincts have grown so quickly accustomed to this new reality. // Yesterday we got in the car, four mobile walls wrapped tight around us, and drove to a church parking lot, where we taped signs on the car and joined a line of 100 vehicles to circle the building downtown where the governor was giving his daily briefing, honking and chanting to demand the release of those still incarcerated in this time. I wonder if they could hear the honking inside. We had the whole block surrounded, a ring of police between us and the building, and from the way some pedestrians were plugging their ears, it must've been loud. You couldn't hear the honking in the livestream video of the governor's speech. I guess the media room is probably soundproof, words and mandates streaming from the podium, deafening silence responding, shutting out the noise beyond the room, no matter how loud, how angry, how insistent. When we rolled down the car window, the noise filled the space so entirely it was hard to think, hard to drive. So we sealed ourselves back in, momentarily safe from noise and virus alike. // There are so many ways to be trapped inside. Alone, with other people. Voluntarily, by force. For employment. Physical walls, mental ones. Somewhere safe, somewhere terrifying.
Recent Posts
March 31, 2021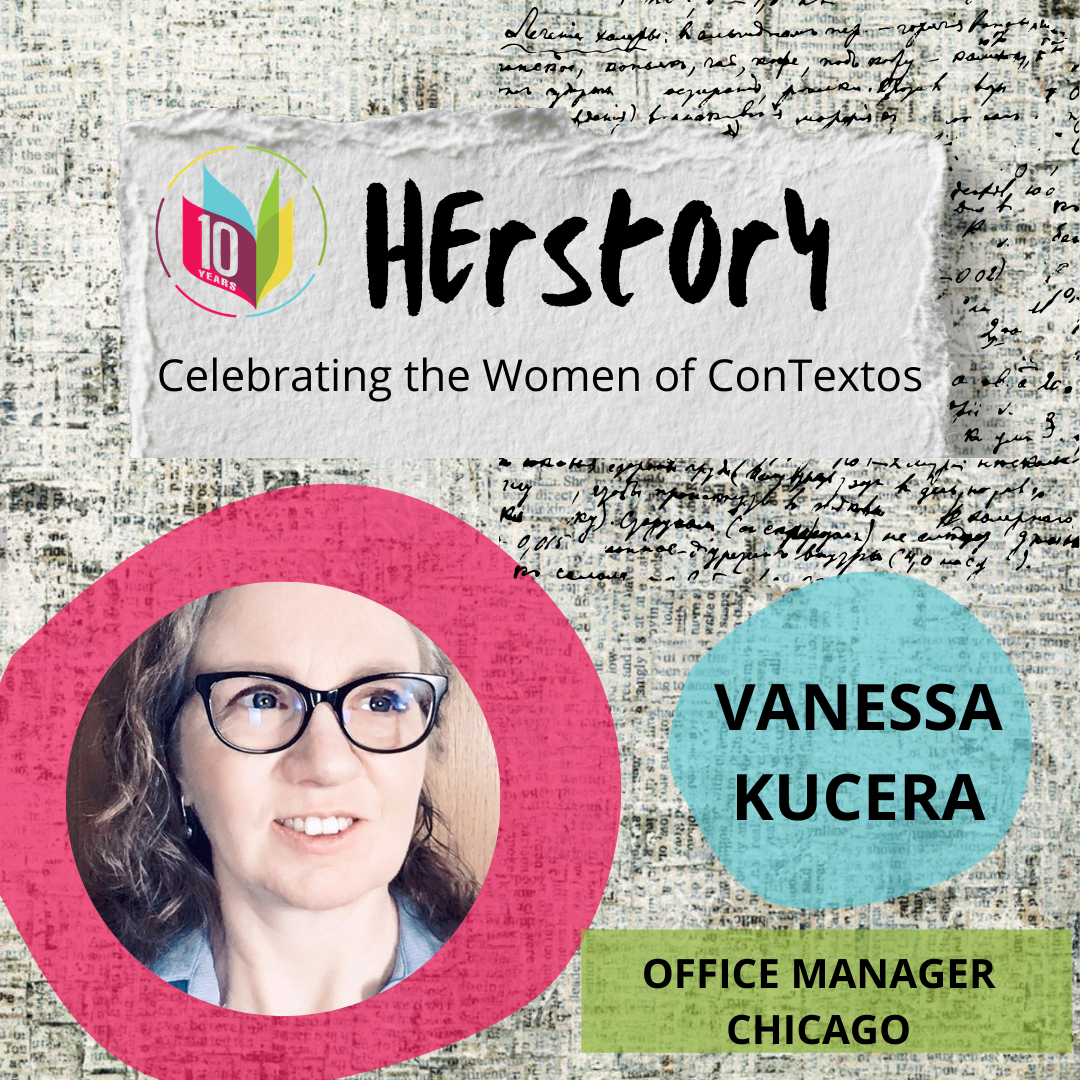 HERSTORY: Celebrating the Women of ConTextos
Vanessa Kucera Office Manager Vanessa is our devoted Office Manager in Chicago who officially joined the team in 2020. As a hard-working Capricorn she helps…
March 25, 2021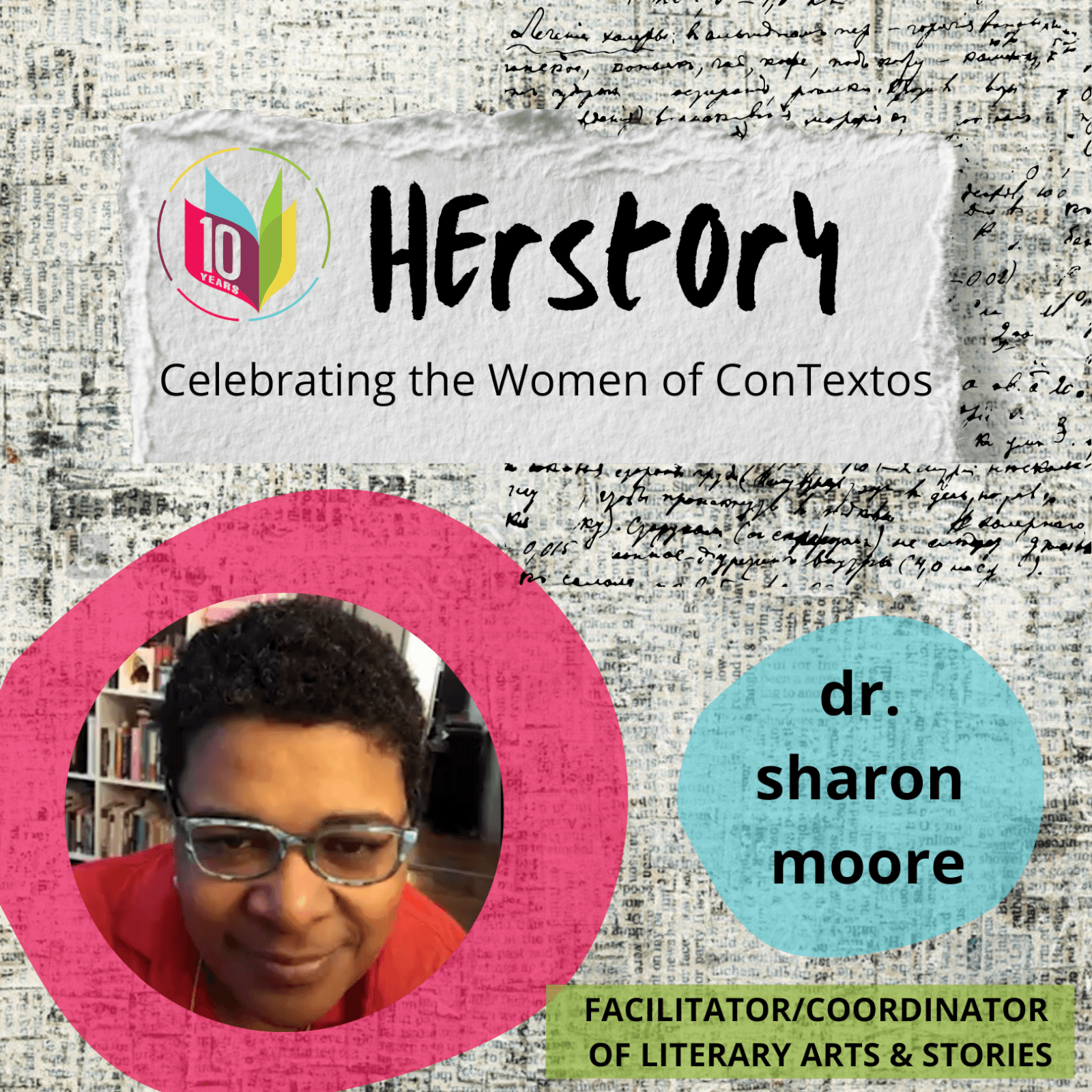 HERSTORY: Celebrating the Women of ConTextos
dr. moore Facilitator/Coordinator of Literary Arts & Stories dr. moore is a conscious wanderer, consistent wonderer, originally from the south suburbs of Chicago and now…
March 11, 2021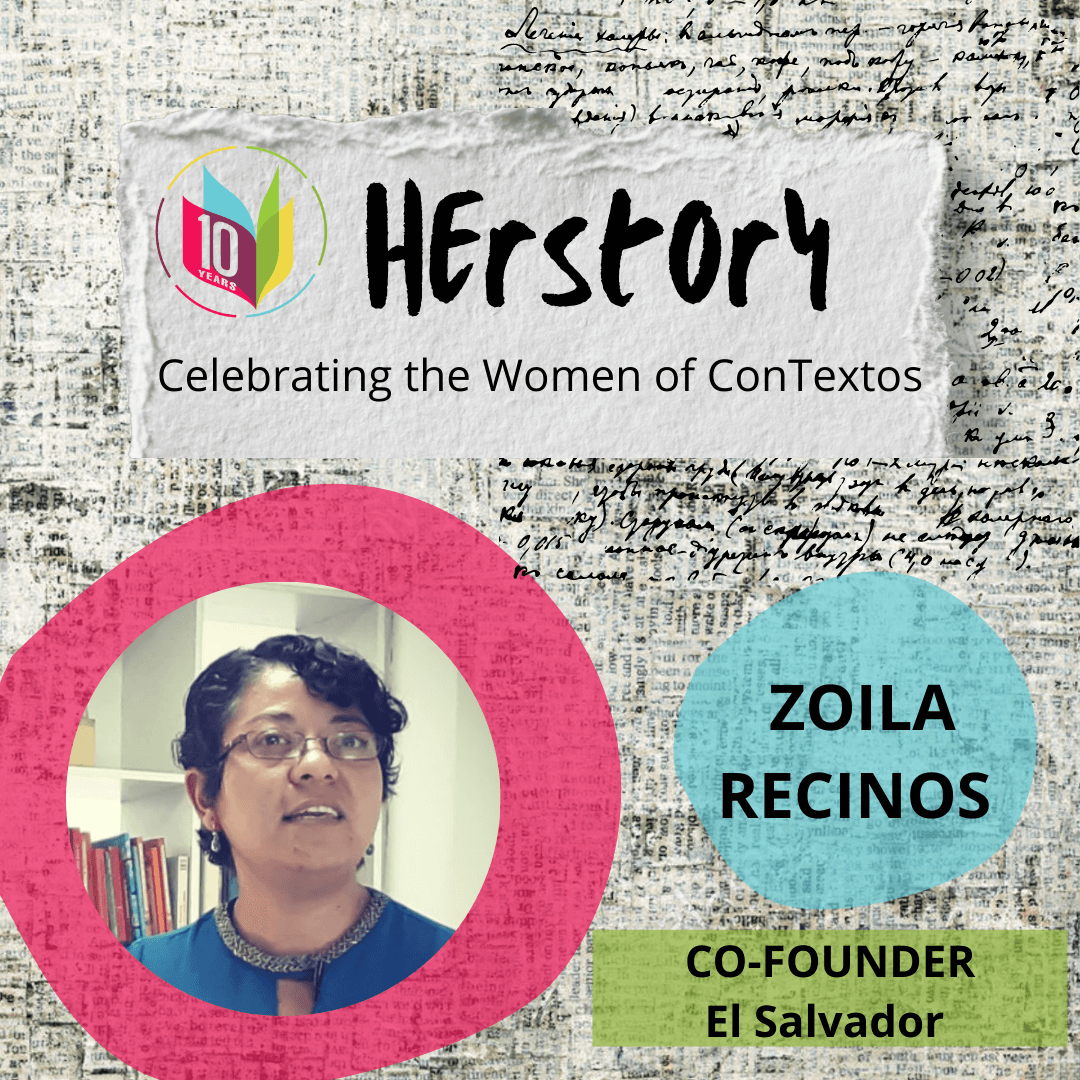 HERSTORY: Celebrating the Women of ConTextos
ZOILA RECINOS Co Founder/Director of Educational Programs Zoila has been with ConTextos since day 1. She is the heart and soul of everything literacy at…